Application
Department stores, outlets, super markets
Meat processing and food processing plants
Low-temp workplace
Hospitals, restaurants
Vegetables crispers
Surface materials
For room temperature application
- PP Type

- Door thickness: 20mm

- Interior material: 18mm plywood
For refrigerator application
- PP type

- Door thickness: 40mm

- Interior material: rigid polyurethane foam
Characteristics
Our swing door opens and closes on the top and bottom gravity hinges' inclined axis, and makes for easy access of forklifts and push carts, which eliminates the need for a separate door opening and closing system. This allows for easy passage of push carts and forklifts.
A viewing panel is installed on the upper part of door for safe operation.
PE bumper is mounted to protect the door bottom against forklift/push cart impact.
Our swing doors come fully gasketed to optimize airtightness and minimize thermal loss.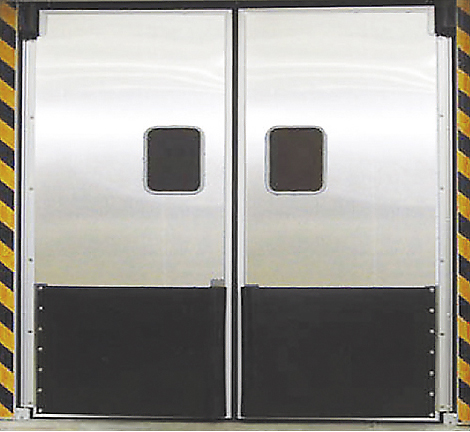 SUPER SWING DOOR
Our super-sized swing door provides a large opening and features black PE bumpers on door buttom to endure heavy commercial and light industrial traffic by carts, pallets, etc. Ideal for warehouse and large-scale electronics stockroom applications.
ommall